Iyer podwójnie nagrodzony...
In 63rd Annual DownBeat Critics Poll

(Click to Read The Lengthy Article on Iyer from Aug Issue of DownBeat)
To cap off a year replete with numerous awards and recognitions of his music, pianist/composer Vijay Iyer has just been announced as Jazz Artist of the Year in the DownBeat Critic's Poll, the second time that Iyer has been granted this distinction. In light of their highly-lauded release Break Stuff (ECM) which received a 5-Star review in DownBeat, the Vijay Iyer Trio was also voted as the Jazz Group of the Year. Iyer additionally composed the music for director Prashant Bhargava's acclaimed film Radhe Radhe: Rites of Holi, released last year on DVD & Blue-ray--a true testament to the breadth of his musical mind.
In the most current DownBeat issue, which announces Iyer's two Critics Poll victories, writer Phillip Lutz said of Iyer: "Few pianists can claim Iyer's drive and intellect" and desciribed Break Stuff as a "breakthrough". Lutz goes on to praise the "humanity" that is pervasive in Iyer's music, yet which often gets overshadowed by his validation as an intellectual.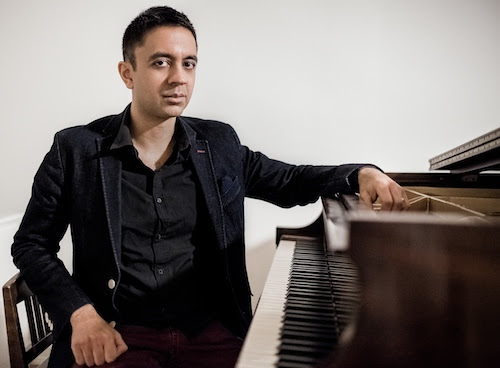 About Vijay Iyer
Grammy-nominated composer-pianist Vijay Iyer (pronounced "VID-jay EYE-yer") was described by Pitchfork as "one of the most interesting and vital young pianists in jazz today," by the Los Angeles Weekly as "a boundless and deeply important young star," and by Minnesota Public Radio as "an American treasure." He was named DownBeat Magazine's 2014 Pianist of the Year, a 2013 MacArthur Fellow, and a 2012 Doris Duke Performing Artist. In 2014 he began a permanent appointment as the Franklin D. and Florence Rosenblatt Professor of the Arts in the Department of Music at Harvard University.

The New York Times observes, "There's probably no frame wide enough to encompass the creative output of the pianist Vijay Iyer." Iyer has released twenty albums covering remarkably diverse terrain, most recently for the ECM label. The latest include Break Stuff (2015), with a coveted five-star rating in DownBeat Magazine, featuring the Vijay Iyer Trio, hailed byPopMatters as "the best band in jazz"; Mutations (2014), featuring Iyer's music for piano, string quartet and electronics, which "extends and deepens his range… showing a delicate, shimmering, translucent side of his playing" (Chicago Tribune).
Iyer's trio (Iyer, piano; Marcus Gilmore, drums; Stephan Crump, bass) made its name with two tremendously acclaimed and influential albums, Accelerando (2012) and Historicity (2009). Accelerando was voted #1 Jazz Album of the Year for 2012 in three separate critics polls surveying hundreds of critics worldwide, hosted by DownBeat, Jazz Times, and Rhapsody, respectively, and also was chosen as jazz album of the year by NPR, the Los Angeles Times, PopMatters, and Amazon.com. Iyer received an unprecedented "quintuple crown" in the 2012 DownBeat International Critics Poll (winning Jazz Artist of the Year, Pianist of the Year, Jazz Album of the Year, Jazz Group of the Year, and Rising Star Composer categories), a "quadruple crown" in the JazzTimes extended critics poll (winning Artist of the Year, Acoustic/Mainstream Group of the Year, Pianist of the Year, and Album of the Year), the 2012 and 2013 Pianist of the Year Awards and the 2010 Musician of the Year Award from the Jazz Journalists Association, and the 2013 ECHO Award (the "German Grammy") for best international pianist. 

Iyer's many collaborators include creative music pioneers Steve Coleman, Wadada Leo Smith, Roscoe Mitchell, Butch Morris, George Lewis, Amina Claudine Myers, William Parker, Graham Haynes, Miya Masaoka, Pamela Z, John Zorn; next-generation artists Rudresh Mahanthappa, Rez Abbasi, Craig Taborn, Ambrose Akinmusire, Liberty Ellman, Steve Lehman, Matana Roberts, Tyshawn Sorey; Dead Prez, DJ Spooky, Himanshu Suri of Das Racist, High Priest of Antipop Consortium, DJ Val Jeanty, Karsh Kale, Suphala, Imani Uzuri, and Talvin Singh; filmmakers Haile Gerima, Prashant Bhargava, and Bill Morrison; choreographer Karole Armitage; and poets Mike Ladd, Amiri Baraka, Charles Simic, and Robert Pinsky.

A polymath whose career has spanned the sciences, the humanities and the arts, Iyer received an interdisciplinary Ph.D. in the cognitive science of music from the University of California, Berkeley. He has published in Journal of Consciousness Studies, Wire, Music Perception, JazzTimes, Journal of the Society for American Music, Critical Studies in Improvisation, in the anthologies Arcana IV, Sound Unbound, Uptown Conversation, The Best Writing on Mathematics: 2010, and in the forthcoming Oxford Handbook of Critical Improvisation Studies. Iyer has taught at Manhattan School of Music, New York University, and the New School, and he is the Director of The Banff Centre's International Workshop in Jazz and Creative Music, an annual 3-week program in Alberta, Canada. Iyer recently finished a multi-year residency with San Francisco Performances, cultivating new audiences and working with schools and community organizations. He is a Steinway artist and uses Ableton Live software.